POSTS
Air Attack, the collaoration
This Saturday we're premiering our latest work called Air Attack. It's a collaboration between Stephanie Sleeper (Choreography) and John Arroyo (Composition).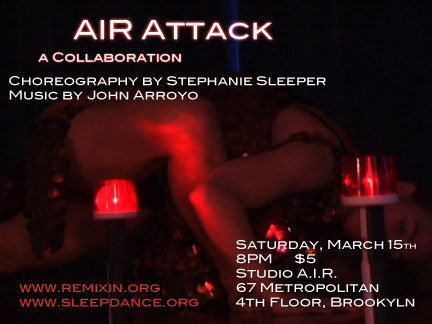 It's a show of Modern Dance and Electro-Acoustic Music. It's also the first time the full program is of works that we've collaborated on. We even have a special improv in the works, it's going to be a cool show!
Air Attack
Doors open at 8pm, show begins by 8:30
To keep the space running we ask for suggested donation
of $5 and/or bring food or drink to the reception.
Studio A.I.R. is located at 67 Metropolitan,
4th Floor, (between Wythe and Kent)
Williamsburg, Brooklyn
Take L train to Bedford Avenue
www.sleepdance.org
www.remixin.org